October 1st marks our 3rd Anniversary and we're celebrating by having a SALE! (which we never do). Oct 1-15th 25-50% of selected items, in store only. Drop in!
We were born out of a desire and need to bring back the general store shopping experience, offering a curated menu of independent local brands and specialty goods. We have a vested interest in sustainability and community. Jackson's is a 'Catch-all for Cool'.
why we're loved!
Jackson's truly is a catch all for cool stuff.  From unique gifts and specialty foods to East Van merchandise and grooming products….I got sorted!

M. Echlin
The staff at Jackson's was really helpful in getting our employee gift baskets filled and customized! In these uncertain times, they brought certain delight to our 'working from home' crew and even delivered! Bonus points....we'll be back.

A. Kao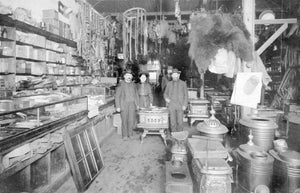 Our History
Our building has a remarkable past! 
Zebulon Franks was a brilliant, well-educated Turkish immigrant, regarded as the first leader of the Jewish Orthodox community here in Vancouver. It was said that he held services in his home and general store, first called "Y Franks" and later Y Franks Appliances, located on Water Street as early as 1907. It's believed Don Lethbridge was the grandson of Zebulon & Yetta. Mr. Lethbridge ran the shop where we are currently located @ 1490 Kingsway but was also set up at 626 Seymour St. before this.
Here's a pic of the early General store downtown Vancouver with Zeb & the gang!
We're excited to keep the General Store buzz alive!
We've only got one shot.
If you ever think about the infinitesimal chance that we were given life, that we are alive - thriving and enduring, we have a once in a lifetime opportunity to create something special, come together.  My goal is to make something unique and magical;  to offer my friends & customers the best I have and the best I can get. I want to leave a legacy of community, giving, meaningful partnerships and enduring success. Love,  MJ
Subscribe for the latest products!
Promotions, new products and sales. Directly to your inbox.